Camp Host - Jim Tuso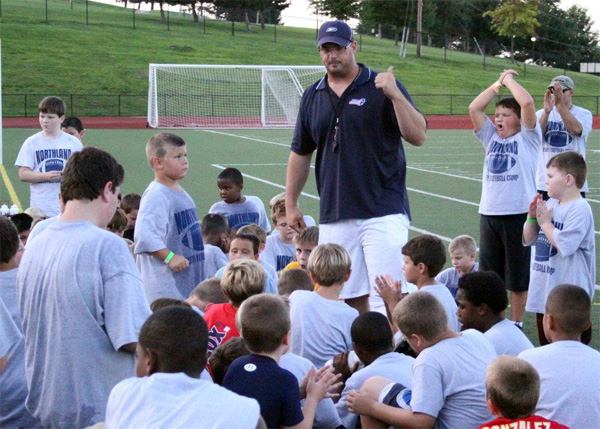 Coach Tuso talking to the kids at the camp.
HISTORY OF THE KANSAS CITY YOUTH FOOTBALL CAMP
In 2002, Jim Tuso had the idea to give kids the opportunity to see what football was like before making a commitment for a season. Deciding to play football is a huge financial commitment and a huge time commitment. . Most parents preach to their kids, "Once you start something you have to finish it". This is a great philosophy; however, some kids who have never played football before can be overwhelmed by the experience, especially, when you take into account that some leagues hold tryouts which can be humiliating for youngsters, if they get turned away. With these ideas in mind, Tuso started the "Jim Tuso Youth Football Camp". The camp also helped parents gain confidence by allowing them to see how their child competed against others their size and age.

In 2002, during its first year, the camp had close to 100 attendees. In 2007, the camp received a facelift and was moved to its new home at William Jewell College and became the Northland Youth Football Camp. The camp has averaged over 200 participants since 2007. Over 300 kids attended the 4 day camp in 2012, making it one of the more successful camps in the Kansas City Area, if not one of the largest between 2012 and 2017. The camp was held at Winnetonka High School from 2012-2016. In 2017 the camp was held at Park Hill High School.
In 2018, we again have made changes to help imprve the camp to ensure and encompass the entire Greater Kansas City Metro Area by renaming the camp the Kansas City Youth Football Camp. In addition to the name change, we have moved the camp back to William Jewell College and the camp will be held inside on the turf of the football stadium at William Jewell College. In 2018, we picked up a new sponsor Kansas City Athletie Training which help work with our campers on agility and training methods all 4 days of the camp.
JIM TUSO THE HIGH SCHOOL FOOTBALL COACH
Jim Tuso has been a varsity football coach for 3 different high schools. In 2011, Tuso was the Offensive Line coach for North Kansas City High School. In 2009 and 2010, he coached Defensive Line at Oak Park High School where he was also the JV Offensive Coordinator in 2010. In 2008, Tuso coached Offensive Line at Central High School.
JIM TUSO THE YOUTH FOOTBALL COACH
Jim Tuso was the Head Coach for the 7th & 8th Grade Missouri Wolverines Football Club from 1999-2007. He became the Director of Football Operations for the entire Missouri Wolverines Football Club in 2002 at the age of 25. The Missouri Wolverines Youth Organization Inc., a 501(c)(3) non-profit organization which sponsors the Missouri Wolverines Youth Football Club was formed by the new director in 2002.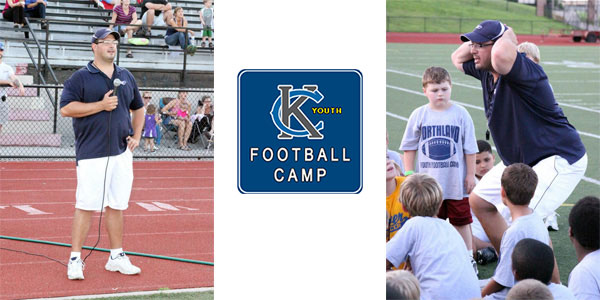 Coach Tuso at the Kansas City Youth Football Camp.
WHO TAUGHT JIM TUSO
In 2000, Tuso's high school coach, Tony Severino, was named USA Today's National Coach of the Year. Why is this important? Tuso and his staff attend the Rockhurst Football Camps each year to learn from Coach Severino and his staff. Tuso attended Iowa State University where he played for Offensive Line Coach/Offensive Coordinator Steve Loney. Coach Loney is now with the Tampa Bay Buccaneers and was previously the Offensive Coordinator for the Minnesota Vikings. The Vikings led the NFL in rushing in 2003 under Coach Loney. Loney is given credit in many publications as one of the most knowledgeable teachers of the zone blocking scheme. Aside from his accomplishments in the NFL, he was also the Offensive Coordinator at ISU when Troy Davis was the only running back in NCAA history to rush for 2,000 yards, in consecutive years.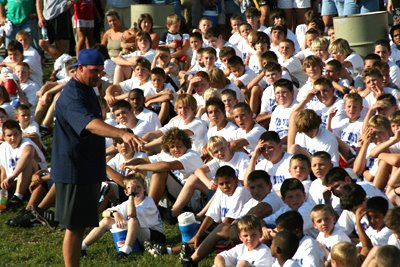 Coach Tuso talking to the kids at the camp.
JIM TUSO THE FOOTBALL PLAYER
Jim Tuso started playing football in the 7th Grade. His team won back-to-back "Super Bowl" titles his 7th and 8th Grade years. Tuso attended Rockhurst High School. He lettered eight times, collectively, in football, basketball, and baseball. He was a two-year varsity center in basketball and a three-year starting pitcher for the Hawklets baseball squad.
Football would end up being his sport. Tuso was one of the few sophomores to start on the offensive line at Rockhurst in the 90's. He would go on to start his remaining three years and be named a team captain his senior year. Tuso earned 1st team All-Metro honors, as well as, All-district and All-State honors along the way. Jim Tuso was named to the Rockhurst High School All-Time Football Team in 2003, putting him among a select few of the many great athletes to play football at Rockhurst High School.
Tuso would continue his career in football as he accepted an athletic scholarship to attend Iowa State University in Ames, IA. While at ISU, Tuso played with such greats as Troy Davis and former Denver Bronco Reggie Hayward and former Kansas City Chief James Reed. Tuso played every position on the offensive line except center for the Cyclones and would finish his career as a right guard.
Put all these together and you have over ten years of personal playing experience for top coaches at all levels of the game. More importantly, Tuso himself has been a coach on the youth and high school levels for over 13 years. He has refined the ideas and philosophies he learned as a player and has generously passed them on to the next generation of football players.